CONTINUED from yesterday…Roger Moore, 1973-85
For many Bond fans, including myself, Roger Moore was the Bond that they were first introduced to. That is a shame, because he was also the worst. Moore brought the element of slapstick humor into the series, and all of his films are rather schizophrenic. Sometimes they try to be serious action/espionage flicks, but then moments later they become cartoonish.
Live and Let Die
, 1973 **
The Man With the Golden Gun
, 1974 **
The Spy Who Loved Me
, 1977 ***
Moonraker
, 1979 **
For Your Eyes Only
, 1981 ***
Octopussy
, 1983 ***
A View To a Kill
, 1985 *
ABOVE: Roger Moore gets ready for a duel against adversary Scaramanga (Christopher Lee). Scaramanga was possibly the most intriguing villain in Bond World, but he was wasted in one of the worst selections of the franchise,
The Man With the Golden Gun
Moore's first couple of outings were shaky indeed, but he finally found his footing with his third try,
The Spy Who Loved Me
, which many critics feel is Moore's best (my personal favorite Moore film is
Octopussy
).
The Man With the Golden Gun
was a missed opportunity, as it featured Christopher Lee as the villain/assassin Scaramanga, who may be the best Bond villain in the entire series. But the rest of the movie is so poorly done, Lee is completely wasted here.
Moonraker
is notoriously bad; Bond in Space as they try to cash in on the
Star Wars
phenomenon (Bond doesn't actually go to space in the excellent Fleming novel). Moore then surprises with his two best Bond outings, but goes out with the nadir of the entire series. The only thing to recommend for the dismal
A View to a Kill
is the Duran Duran theme song.
Timothy Dalton, 1987-89
Dalton doesn't really get a fair shake. His Bond was a breath of fresh air for fans of Fleming's original conception of Bond. Dalton brought a much needed (relative) gravitas back to the character, going a long way to erase Moore's slapstick legacy. The problem was that the two films he did were mediocre (not his fault), and audiences were not used to such a coldhearted hero who dispensed with much of the charm and wit of the character.
The Living Daylights
, 1987 ***
License to Kill
, 1989 ***
Pierce Brosnan, 1995-2002
If there was ever an actor born to play Bond, it was Brosnan. In fact, he was the producer's first choice as the replacement for Moore, but due to contractual restrictions with his TV show 'Remington Steele', Brosnan couldn't get free to take the part. But he got his chance in 1995. Brosnan is perfect throughout as Bond; the fault during his tenure lies with the scripts and directors. In two of his four films, they start off very strong and have the potential to be some of the better films in the series, but about halfway through both films it is like the writers, directors and producers lost their nerve and had to throw in the standard Bond clichés just to be safe. I wish Brosnan had been given better material, because he deserved better.
Goldeneye
, 1995 ****
Tomorrow Never Dies
, 1997 **
The World Is Not Enough
, 1999 **
Die Another Day
, 2002 **
Daniel Craig, 2006-present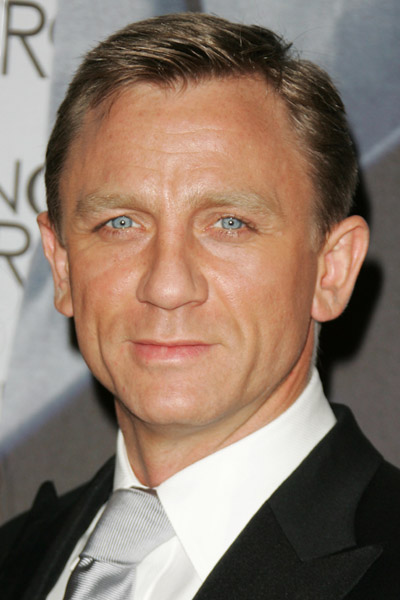 Sweet revenge. When it was announced that Daniel Craig would be the next Bond, Bondophiles were irate. Websites sprung up for the sole purpose of ridiculing Craig and trying to organize boycotts. A blonde Bond?! Blasphemy. Craig was seen as a tough guy actor with no charm or class. But once his debut as Bond was released, it was quickly hailed as perhaps the best Bond film ever made. I have to agree that it is at least the equal of some of Connery's classics. Taking a cue from the success of the Batman reboot
Batman Begins
, the Bond producers decided to "start over" and investigate Bond's early days. But instead of sticking with the Fleming timeline of Bond starting his espionage career during World War II, they wisely updated the character so he could get his start at the end of the Cold War. The result was a gritty, engaging and thrilling action film. On a side note: fellow Bond fan Willis and I had spent long hours discussing what needed to be done to re-energize the Bond films. I specifically recall saying that they ought to go back to the roots of the relatively simple but engaging plot of Fleming's first Bond book, Casino Royale. Once Craig's debut came out, I can happily report that they took most of our suggestions to heart.
Casino Royale
, 2006 ****1/2
On deck is Craig's next outing,
Quantum of Solace
, to be released in November of this year. I can't wait. Something almost unheard of for Bond, this next one is supposed to be an actual sequel to
Casino Royale
and continue its storyline. Bond films have always been self contained, episodic adventures. It never mattered in which order you watched them. But apparently, this next film is supposed pick up "within one hour" of the ending of the last one and continue on. Very cool.
ABOVE: The teaser posters are already out for Bond's next adventure,
Quantum of Solace
. Kudos to the Bond producers for going back to Ian Fleming titles ('Quantum of Solace' was an original Bond short story by Fleming)
Thanks for sticking with me on this journey through the world of Bond. In sum, if you are a neophyte or just want to revisit the most iconic hero in movies with a new appreciation, I would start with these three selections:
Casino Royale
(2006),
From Russia With Love
(1963) and
Goldfinger
(1964).